It's no secret that I am a wallpaper fanatic.  I have it in several rooms of our house with plans for more!  I have both old school paste wallpaper and 3 different peel and sticks. (see a few here, here and here)
Since I'm getting ready to have some stunning wallpaper put in for a powder bath re-do, I thought I would share some of the really beautiful peel and stick papers I've run across.  So this one is for anyone who wants to dip their toes in without the major commitment!
How fab is this retro feeling floral?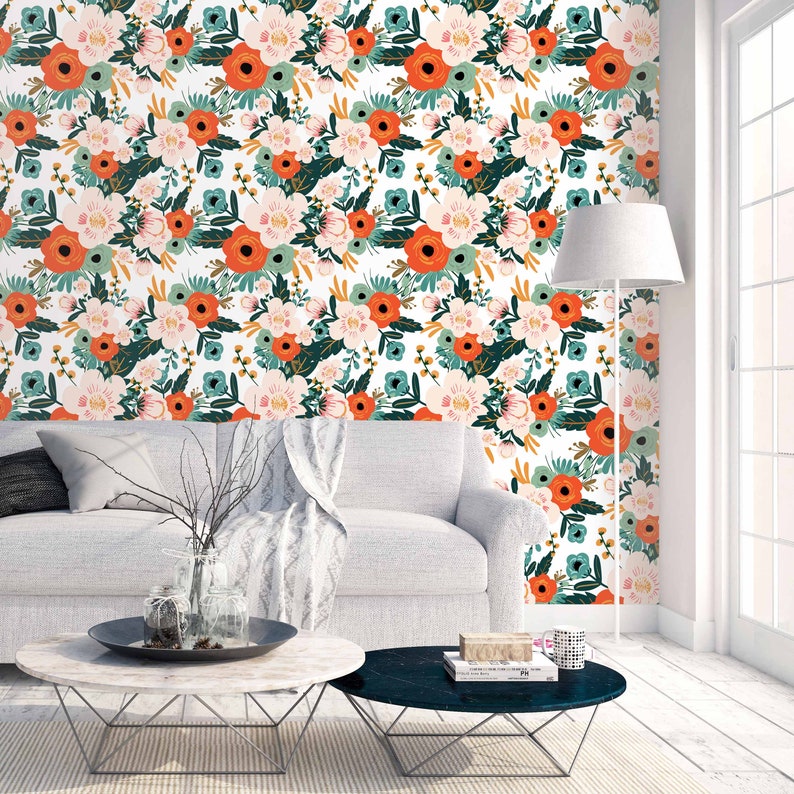 This is from The Wallscape Company
I selected this for a client for her boutique and it turned out amazing!  It's such a fun print with a vintage feel in a fresh way and perfect for a focal wall, or try it on the back of bookshelves for a pop.
Of course you know I love me some whimsy…
A fab fun print from Masters of Fate
I can see this in a powder bath absolutely killin it.  Or how about an entry wall?  Make a major statement from the get go!
Sleek meets Art Deco
Hello gorgeous from Street Workshop
Deep navy mixed with gold is always a winner, and pair that with the geometric pattern and you can't go wrong.  This screams class and high style.
How about something fresh and fun?
This cute pattern is from Wallaby Walls
I can see this in a kitchen or laundry room.  It would also be adorable in a farmhouse bathroom.
Drama plus boho equals…
Whoa mama! This stunning Monstera pattern with gold on black is from Floral Art Wallpaper
This is begging for some attention and boy it deserves it.  Dining, living, bedroom…it would be stunning anywhere! I'mma need me some more walls.
I'm all about the drama as you can tell from above.  Just check out this new mural (below) from my friends at Muse Wall Studios.
Woo baby this "Flying Over the Delta" piece is knock your socks off gorgeous.
I've worked with Muse Wall Studios twice before and I highly recommend them!  Their paper is of incredible quality, it's easy to work with, straightforward and beautiful.  (check out the 2 rooms I did with their murals here and here) (this post has no ads or affiliate links, simply my personal picks and opinions!)
How cute is this?
Another from Muse Wall Studios this adorable dalmation print isn't just for kids rooms.  Incredibly chic yet fun!
You know I love me some soft pink and combined with oversized florals…
Ooo lala, how pretty is this?  It's from Rocky Mountain Decals and it's lovely.
There isn't a place this wouldn't be beautiful but especially a girls room or even an office.
You guys I could share wallpapers for DAYS.  There are thousands of amazing patterns and papers out there.  Try Etsy for a HUGE compilation.
I highly encourage you to go for it, especially with these peel and sticks.  You can just peel it right off the wall when you are over it.  It is just a giant sticker after all!   ; )
What are some of your favorite peel and stick wallpaper shops?  I always love to hear from ya so hit me up in the comments!
And don't forget to subscribe…I have a big kitchen DIY project coming up and it's going to be awesome!  Along with a powder bath makeover…oh yeah it's gettin crazy over here.
XXX&OOO
XOXO
dalmation print
monstera print
peel and stick mural
peel and stick wallpaper
wallpaper mural