Picking up on our boys bedroom redo, I left you with this lovely view last time…
To start making some major changes in this room we spent 2 days cleaning it out.  Donating toys, books, clothes and shoes that weren't used or didn't fit.  It was the most time consuming part of the whole thing, that's how it goes though right?!
Next up was paint, I had found this insanely cool peel and stick wallpaper mural, Miami Paint Swirl, from my friends at Sweet Pea Wall Designs (see their other mural I used in the Jewel Box bedroom!)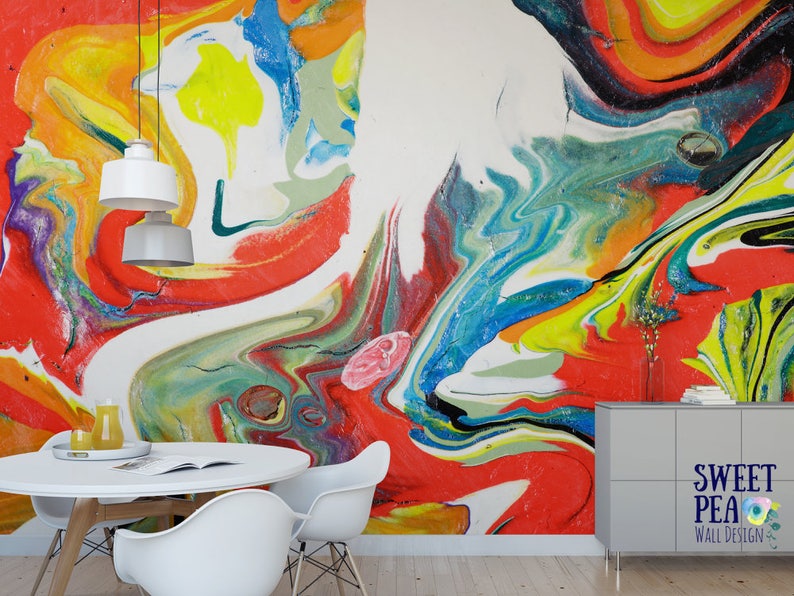 I decided to play on the black and white elements for the paint colors, this way we could have some fun with the bedding and accessories yet still allow that mural to be front and center.
I chose Decorator's White by Benjamin Moore for the walls and Caviar from Sherwin Williams for the ceiling.  Both in an eggshell finish.  I find that matte finishes suck up the light and feel heavier so I like a smidge of sheen.
We left the main wall blue, we were wallpapering over it anyway so we didn't bother with paint.
What a difference right?!  It's so much lighter and it feels ginormous!
'Scuse the big mess!  This is mid project.
Next up was the installation of the mural!
You may notice we overpainted the corners a little bit, I highly recommend doing this!!  Most walls aren't straight so it's really tough to get that perfect line.  By overpainting a little bit it covers up any discrepancy!
We laid out the panels in order and began putting it up.
I lined it up at the top and side while the hubs pulled the backing down, this kept a nice smooth consistency in the paper and made applying it a cinch. Each strip was maybe 15 minutes to apply.
We cruised along until the window, it was a bit trickier as we had to carefully cut into and trim around the frame while maintaining the pattern.  Their paper has some give so I was able to stretch it enough to keep it lined up.
The finished mural!  The boys LOVE it and it does 3 things…brightens the room, brings in loads of color and it reflects their vibrant personalities.
Next up, remember the super cool DIY project I mentioned in the first post?  It's a climbing wall!  That's right, one of our boys is an american ninja warrior junior hopeful.  He climbs everything, jumps, swings, flips…it's crazy.   So I thought a way to channel it safely, at least to some degree, would be to install some in his room passing around the corner.
The first step was to order some rock wall handles on Amazon.  Super easy! And cheap, $40 for a bag of 25 holds with bolts. Then we went and picked up some higher end plywood, I wanted to keep it natural so it needed to be smooth and look pretty.
You can see in the photo above, we laid the sheet on a couple of sawhorses.  I just took a pencil and freehand drew on the corners.  I wanted to give it a flowy feel, to mimic the pattern in the mural.
Below you can see one cut out and all the edges sanded!  I love the organic feel of it.  None of the corners are the same.  After we did the same to the second piece we attached the holds in random spots with the bolts they provided and hauled them upstairs!
The next step was locating the studs with a stud finder and then marking them with a pencil.  After the hubs did that he took a chalk line and using the stud marks, did chalk lines on the wall to mark the location of the studs.
We used a small stool to rest the panel on which helped to keep it steady while screwing it into the studs and also brought it up off the floor far enough to almost center it on the wall.  Then the hubs just lined up screws on the panel, where the chalk lines were above and below, right into the studs.
And little ninja couldn't WAIT to test it out.  (PSA this was after my hubs climbed up to make sure it was rock solid)
I'm planning to order a big bean bag chair that can double as a crash pad for this corner, searching around but I'm thinking Amazon.  For now they need a grownup around to act as a supervisor if they want to climb on it.
Whew!  That was a lot of change in a short amount of time!  Painting the ceiling black really opened up the room and heightened the feel of the ceilings.  I highly recommend having some fun with those.
The wallpaper mural was super simple to install and looks AMAZING!  It took us maybe 2 1/2 hours in total, just because of the extra time around the window.  The quality of the paper and print from Sweet Pea Wall Design is insane!  And a huge thank you to them for providing the mural for this project!!  I highly recommend checking out their shop, they are so awesome to work with and it's custom printed to your wall which makes install a cinch.
And that rock climbing wall, super simple and easy DIY.  Our boys are having so much fun with it.  I've even got a request to hang some rings from the ceiling…ummm I'll think about it. haha
Next up is furniture!  It's time to start making this bedroom feel like a bedroom again!
What do you think?  Would you use such a bold paper in a kids room?  What's your fave element of it so far?
I always love to hear from ya so hit me up in the comments!
And don't forget the subscribe box in the sidebar!!
XXXX&OOOO
XOXO
4 easy ways to decorate your wall
benjamin moore
black ceiling
caviar
decorator's white
diy
interior rock wall
miami paint swirl mural
peel and stick wallpaper
sherwin williams
sweet pea wall design