** This post contains some affiliate links.  See disclosures for more!**
Coffee tables are a pretty substantial piece of any living space.  They function as drink holders, foot stools, kid toy holders, remote wranglers and book stands.  I thought it would be fun to share some different styles of coffee tables,  along with links for you all to pick these up.  So if you are hankering for a new table for your family room read on!
The Handcarved Wooden Lovely.
It brings such a warmth and global feel to any space.  If you are looking for something to bring texture and a lived in feel this is it.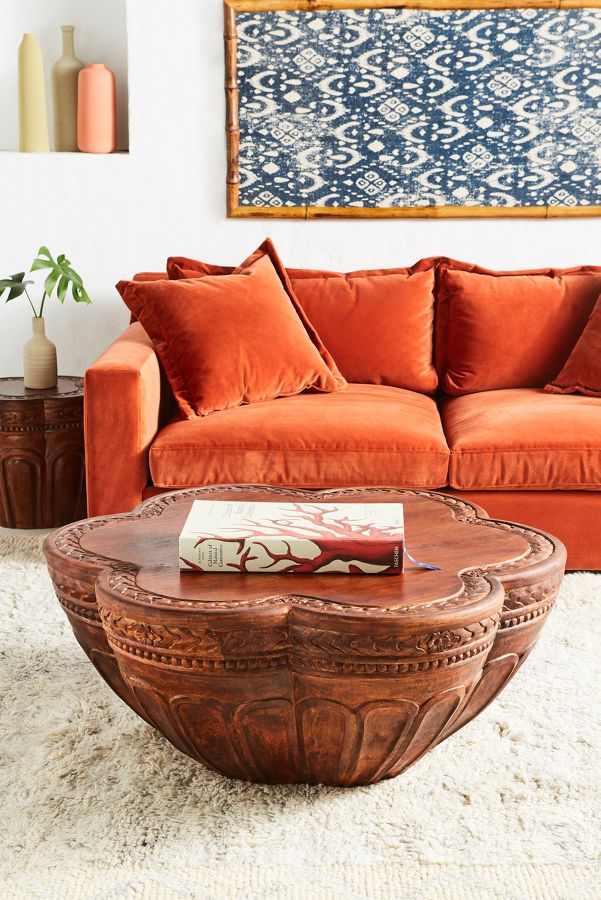 Can we just all stop and admire the detail on this?  The intricate carvings, the shape, the variation in color.  I'm seriously tempted by this one.  It can be found at Anthropologie (on sale now!).
The Sophisticated Marble with Geometric Legs
Perfect for a space that has a lot going on and you want something clean and sleek to balance it out.  Or a modern space with other modern or mid century modern furniture.
Courtesy of Anthropologie, this beauty has a solid marble top.  Show me a piece that has white marble and it will forever be a classically beautiful piece.  You just might want to be careful with drinks as it is marble and will stain/etch.  Slap a good stone sealer on it before use!
The Gold/Brass Hammered Understated Eye Candy
This is another round but minus the marble.  It's durable, hand hammered in India and has a glamorous yet casual edge.  No pun intended.
Perfect for any living or family room this would go with just about any style decor.  Modern, boho, casual elegant, sophisticated, it is extremely versatile!  This beauty can be found at World Market.
The Rustic Sculptural Statement
This one is interesting in it's lines.  It's made from rustic materials but has a very simple design, a perfect balance.  It also allows for a shelf underneath the top, great for remotes, magazines, books, etc.
It reminds me of something you would see at an art exhibit, yet it's so straightforward.  Just a very cool piece!  This guy is from West Elm.
The Mid Century Vibin Storage Table
This guy would be great for anyone needing a little bit of storage without sacrificing style.  The wood and white combo with the graphic detailing on the drawer fronts.  Mmm mm.
A very vintage feeling new table that gives plenty of storage space for sweeping off all the junk on top when company comes over!  (I don't do that…just kidding I totally do)  And it's from Target!
A Vintage Showstopper
You all knew I had to have something vintage in here!  And I am shamelessly sharing one of my coffee tables.  It's a gorgeous brass oval tray with hand etched detailing all around the top.  You may remember it from different spaces in our home!
It has a simple straight leg mid century style base and you can find it here!  Ya'll I have 2 more of these, another oval and a round, both with brass capped spider leg bases that I haven't added to the shop yet.  If you are interested send me an email!
You may notice I have lots of round… it's true, I'm obsessed with curves.  I especially love round coffee tables because they allow for maximum traffic around them.  With my 4 kiddos running in and out all the time I have found that round coffee tables (or at least rounded corners) really cut down on the scrapes and bruises they get from cutting it too tight on a rectangular table.  Plus, it's just really visually nice to do an opposite shape than your main piece.  Sofas, chairs, etc usually have a square or rectangular shape.
What is our fave shape for coffee tables?  Are you a fan of vintage or new?  Stone, metal or wood?
I always love to hear from you!  Make sure to hit me up in the comments!
XXX&OOO
XOXO
anthropologie
best coffee table
brass
brass tray table
coffee tables
hammered brass coffee table
marble
mid century coffee table
opalhouse
round coffee table
target
west elm
world market