I've shared my struggle with real plants (here) and then I shared some of the things I learned on my journey to being a plant mama (here) but now I'm faced with styling a room that has no natural light.  As in none, zero, not a single window.
This leaves me with the challenge of bringing that natural plant life feel into the space without actually using real plants.  Thus my journey of finding realistic faux plants began.
A little over a year ago I scored a faux fig tree at Target.  It was my first fake plant (I was still murdering all living plants) and it looked amazingly realistic.  It was from the Opalhouse line (see more of my love of Opalhouse here).  I started to believe that finding faux plants, that didn't look like they came straight from a plastic warehouse, was possible.
That's my Opalhouse faux fig tree.
I recently found some at 4 different places; Home Goods, Target, Goodwill and local flea market.
Target is definitely my favorite place to look and here are some of my top picks along with a few that I picked up!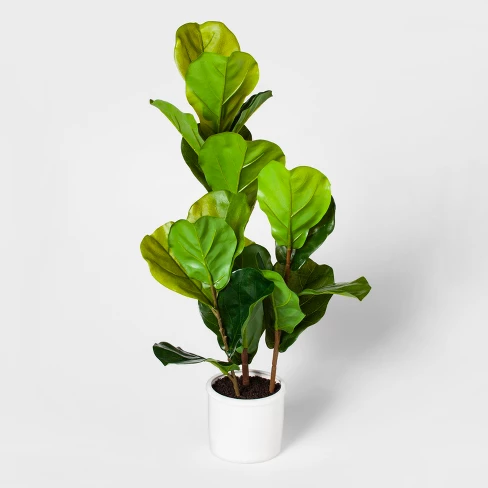 This is a 33″ Fiddle Leaf Fig and I bought 2 of these.  They look really real after you bend the leaves and branches out!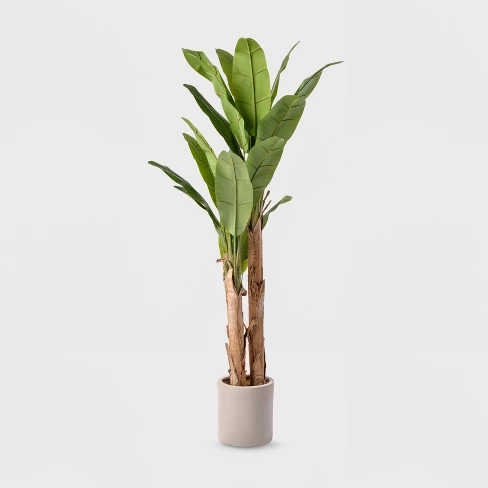 I snagged one of these guys.  A 6ft Banana Tree, just make sure to place the bigger ones in a larger basket or pot.  This is clearly not a realistic base size, if this were a real plant the pot would be much larger!  Again, play with the leaves/branches to get a more real look.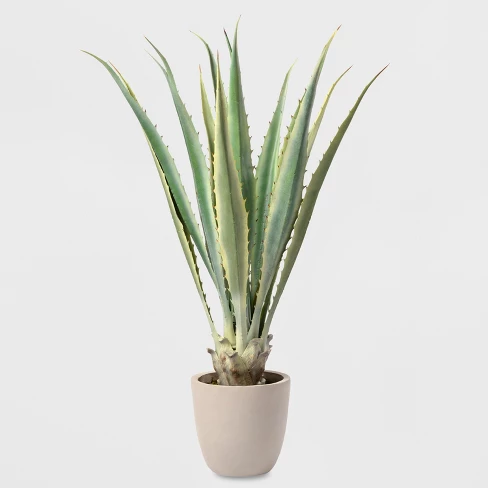 LOVE this guy and would definitely buy one, sadly they are temporarily out of stock.  I am going to keep my eyes open though because it looks amazing and based on the stellar reviews….I don't think we can go wrong!
I saw this one at Target yesterday!  It looks pretty darn real, a potted palm plant whaaatt?!
 I am not affiliated with Target in any way and there are no affiliate links, just plants I both bought and would buy.  Target really has a great selection.  Check out their site and focus your search on guest reviews, then you get the highest rated.  This helps a ton when you are buying online and can't see them in person first.
An unexpected find was at Goodwill.  They are always getting fake plants in and 99% of the time they look terrible.  But I stumbled on one that looked pretty real. **Tip!!**  To make extra sure it looked realistic I snapped a photo of it.  Taking that photo shows it through another eye, sometimes the camera picks up or exposes a viewpoint we don't see in person.   Same goes for the flea market plant.  It's 7ft tall and had 3 people commenting on how real it looked as we carried it through and out the store!  Not to mention the cost for these combined was less than $50.  The savings makes it definitely worth a look.
Home Goods has a bunch right now and while lots of them are not even close to fooling anyone, I managed to find some smaller plants in more grassy styles that looked pretty real.  They weren't too badly priced at $13-$20.  So definitely worth checking out, especially for the smaller styles.
Wherever you find your real looking faux, just make sure you bend the leaves/branches and put it in a logical size basket or pot!  It can make all the difference.
What do you think?  Are you team faux or team real?  Or are you a bit of both? And do you have any great places you find faux plants?  I always love to hear from ya so hit me up in the comments!
And don't forget to hit up the subscribe box in the sidebar!  It keeps you posted on the new stuff!
XXXX&OOOO
XOXO
faux banana tree
faux fig
faux palm tree
faux plants
goodwill
home goods
realistic fake plants
target
tips to make a fake plant look real
where to look for real looking fake plants